Members, please note: As our community navigates through the coronavirus outbreak, rest assured that your funds are safe, federally insured up to $250,000 by the National Credit Union Administration (NCUA).
Branch Hours
Branch hours have been reduced in response to stay-at-home directives to prevent the spread of the coronavirus. 
This is for the safety of both members and staff.
Main and Fort Street:
7:30 am-2 pm Monday-Friday
Kailua, Kaimuki, Kapolei, Waikele and Waimalu:
9 am-2 pm Monday-Thursday
noon-5 pm Friday
9 am-2 pm Saturday
Kahului, Maui:
9 am-2 pm Monday-Thursday
noon-5 pm Friday
9 am-1 pm Saturday
Henderson, Las Vegas:
9 am-2 pm Monday-Thursday
noon-5 p.m. Friday
9:30 am-2 pm Saturday
Kekaha CU, Kauai:
9 am-2 pm Monday-Thursday
noon-5 pm Friday
In addition, the first hour of operations Mondays through Thursdays will be reserved for seniors:
7:30-8:30 am at Main and Fort Street
9-10 am at Kahului, Kailua, Kaimuki, Kapolei, Waikele, Waimalu, Henderson and Kekaha
Hawaii National Guard CU branches: Temporarily closed
OTSECU: Temporarily closed 
Shared Branching: Shared branching services are discontinued for non-members until further notice. APFCU members can still continue to make shared branching transactions.
UPDATES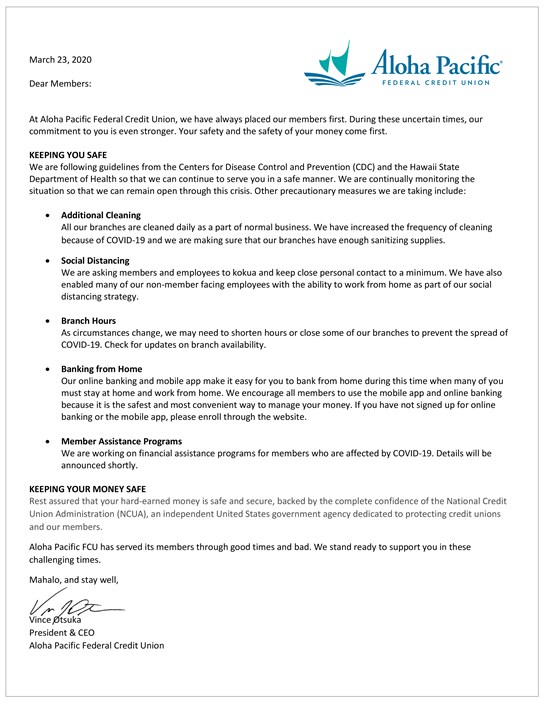 Monday, March 23:  Effective Thursday, March 26, both HNGCU branches will close temporarily in light of coronavirus concerns.
Members who frequent the Diamond Head branch, please visit Aloha Pacific FCU's Kaimuki branch.
Members who frequent the Kalaeloa branch, please visit APFCU's Kapolei branch.
Friday, March 20: The OTS Employees Credit Union branch is temporarily closed until further notice out of an abundance of caution. OTSECU members, please visit APFCU's nearby Main and Waimalu branches. Mahalo!
Coronavirus Overview
The coronavirus disease 2019 (shortened to COVID-19) is cause for concern as it moves into nations around the globe.
At Aloha Pacific FCU, we are monitoring the situation for the safety of our members, employees and the general community. All branches remain operational, with the exception of the OTSECU branch, with heightened disinfecting measures and an emphasis on social distancing.
Here are suggested precautions to take to avoid catching or spreading any infectious disease:
Avoid close contact with people who are sick
Avoid touching your eyes, nose and mouth with unclean hands
Wash your hands often, with soap and water, for at least 20 seconds; or use sanitizer with at least 60 percent alcohol if soap and water are not available
Cover your mouth with tissue when coughing or sneezing and throw the tissue into the trash
Stay at home if you're sick
Stay informed. For updates and detailed information about COVID-19, go to the Centers for Disease Control and Prevention: https://www.cdc.gov/coronavirus/2019-nCoV/summary.html
and the Hawaii Department of Health's website: https://health.hawaii.gov/docd/advisories/novel-coronavirus-2019/
Online, Mobile App Banking & More
While we welcome members to our branches, there are other convenient ways to bank with us:
KalaTalk, banking by phone: 808-847-5522 or toll-free, 877-847-5522
Our Call Center, at 531-3711 or toll-free, 877-531-3711
Your Finances
Don't panic. That's one of the recommendations most financial experts offer whenever the stock market goes down instead of up.
The stock market is very nervous about the coronavirus and in the past has been jittery about many other health issues – and recovered as the crisis passed.
This crisis, too, will pass. China, the epicenter of the coronavirus, is already seeing a health recovery.
Prepare for the next downturn. The only sure thing about the stock market is that there WILL be ups and downs. Consider these tried-and-true long-term options:
Do you have an emergency fund – generally four to six months of living expenses?
Are your investments diversified so that you can weather a financial storm?
Will you create a budget so that you know exactly where your money is going – your income, expenses – taking into account your financial goals? You might consider cutting back on unnecessary expenses in order to save more money.