Staff Profiles
Joy in Las Vegas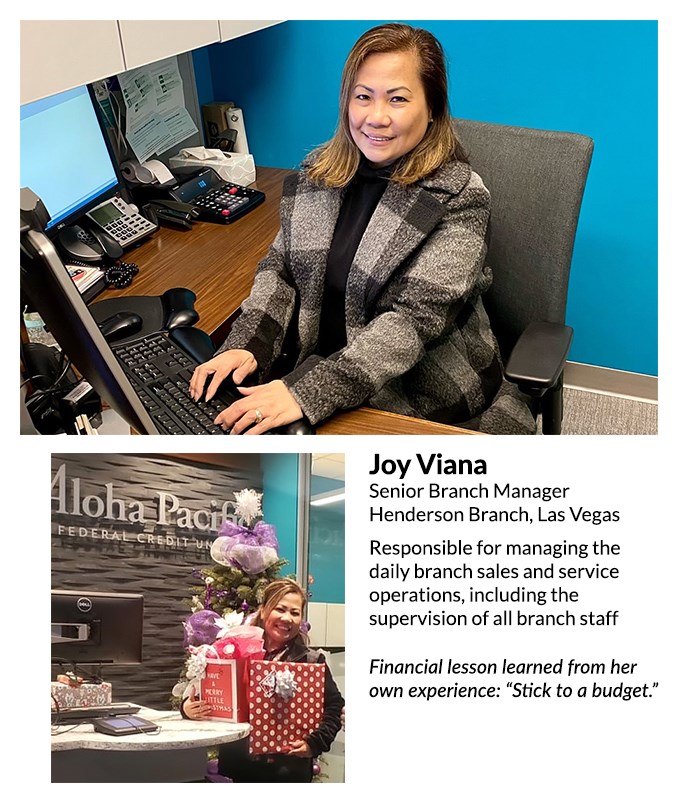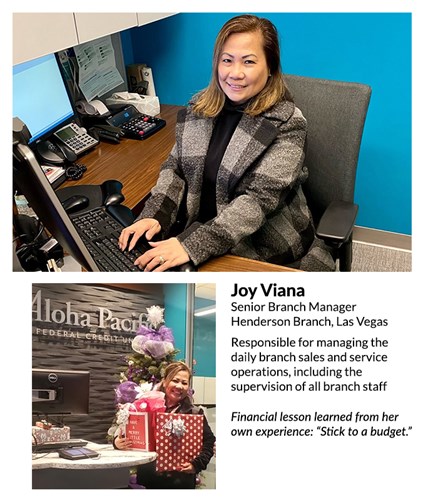 We continue our series of staff profiles with Joy Viana, who's been with APFCU for four years
Anti-fraud tips for APFCU members: "Guard your personal information! Limit what you share on social media."
Favorite member interactions: "Listening to our members' stories and being able to follow their life events. Being able to help them in getting their first loan for school tuition, then their first charge card (APFCU VISA), then their first automobile (new or used) and in the future being able to assist them in purchasing their first home."
Favorite hobby: Reading
Dream vacation: "In my bucket list is Santorini in Greece"
What lesson from your childhood do you still find useful today? "Time Management. I manage my time efficiently, I don't focus on activity that doesn't contribute to my daily productivity. I was the oldest of six children; my father died when I was 12 years old, so my mother had to get back to the workforce to raise all of us. I learned to manage the household duties and responsibilities, including ensuring my siblings finished their homework and were bathed, fed and ready for bedtime. Also to effectively plan the meals for dinner nightly and for breakfast the next day and to ensure my siblings were ready for school. My mother normally got home at around midnight from the sundry store she owned and managed."
Meet Flo Miyashiro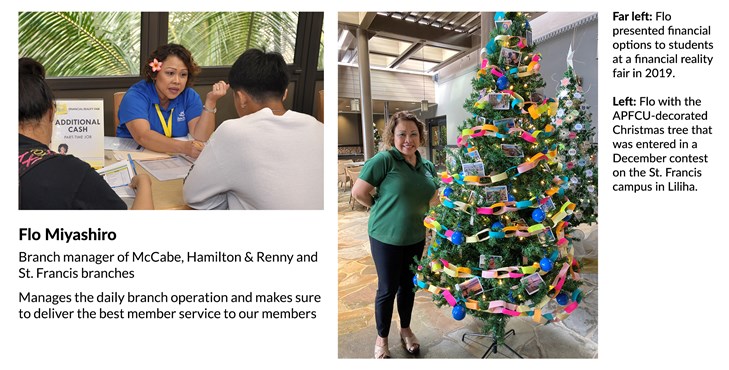 Welcome to our new feature, introducing you to our Aloha Pacific FCU ohana who are front and center at the branches or working behind the scenes!
Here's Flo Miyashiro, who joined the APFCU ohana 3½ years ago.
Favorite hobbies: Cooking and spending time with family
Favorite travel spot: Seattle
Dream vacation: Switzerland and Italy
Financial lesson learned from her own experience: "When I was young, I didn't know how to balance my checkbook and kept writing checks that resulted in paying non-sufficient fund fees."
Anti-fraud tip for APFCU members: "Aloha Pacific FCU will not call members to get their personal information over the phone or by text."
And: "It feels good when I help members with their credit and get their finances to have better cash flow."
St. Francis FCU Merger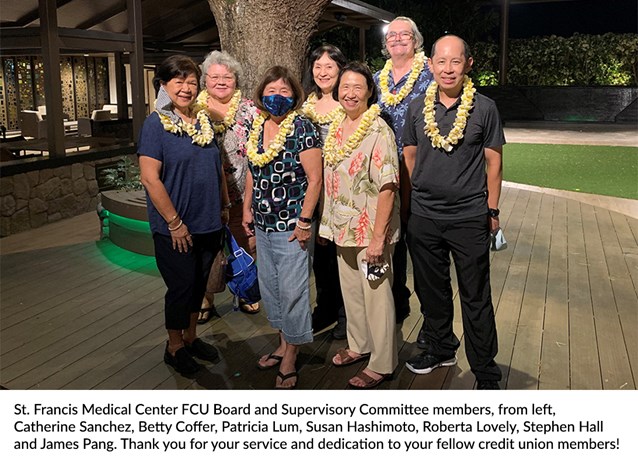 Welcome, new members!
St. Francis Medical Center FCU members are now Aloha Pacific FCU members with the completion of the merger on November 1. They now have access to all the products and services offered by APFCU.
The St. Francis branch, 2228 Liliha Street, suite 209, on the campus of St. Francis Healthcare System, remains open. Hours are 9 a.m. to 4:30 Mondays, Wednesdays and Fridays; closed at lunchtime, noon to 1 p.m.
This is the 11th merger since 2008 for Aloha Pacific FCU. The other mergers are:
Inter-Island FCU, 2008
First Insurance FCU, 2009
Word of Life FCU, 2010
Media Hawaii FCU, 2011
Hawaii Stevedores / Castle & Cooke FCU, 2012
Hawaii National Guard CU, 2017
OTS (Oahu Transit Services) Employees FCU, 2018
Kekaha FCU, 2018
Hawaii Pacific FCU (Sears Hawaii), 2019
McCabe, Hamilton & Renny FCU, 2020
APFCU is privileged to assist all members in their financial goals. We thank you for helping to make APFCU the success it is today!
Real Estate Reality
Home Prices Still Setting Records, But...
The median prices for single-family homes and condos hit new record highs in May 2022, but single-family home sales dropped 15% compared to last year.
According to the Honolulu Board of Realtors, the median sales price for single-family homes was $1,153,500. For condos, the new record price was $516,500. Although new records were set, single-family home sales dropped, which could be reflective of rising mortgage rates. Condos, on the other hand, saw an increase in sales, particularly mid-priced units in the $300,000 to $600,000 range.
With summer upon us, it looks like it will continue to be a sellers' market for the time being as the real estate market generally tends to heat up in June.
If you're interested in selling a property, call our principal broker, Reyn Uehara, at (808) 383-8072 for the latest market trends in your neighborhood. Our team of realtors and mortgage brokers can also assist buyers in putting together the best possible offer in this highly competitive atmosphere.
As a bonus to our members, sellers receive a discounted commission fee while buyers receive a free one-year home warranty. Call for more information.
[posted July 1, 2022]
Investment Tips 101
Time is More Important Than Timing When Investing
Article from Aloha Pacific Financial Group
A lot of people try to make predictions about the market and time their buying and selling just right so they can buy low and sell high. However, it can be very time consuming, frustrating and in the end you may still get it incorrect.
Interestingly, while financial analysts don't always agree when the market will go up or down, many of them will agree that the longer you are in the market, the better it can be for your investment.
Instead, you should consider investing your money in investments with a long-term growth outlook and let it grow over time. A good long-term allocation can provide a potential for a higher rate of return over time vs picking stocks for short-term returns. It's okay to make modest adjustments to your stock portfolio as conditions change for the individual company, the stock market as a whole, and the economy. However, short-term investments are designed for goals that are closer at hand.
Let our in-house professional advisors help you pursue your financial goals. Call us today for your free consultation at (808) 539-0136.
Also visit us at www.AlohaPacificFinancialGroup.com to sign up for our monthly e-newsletter.
There is no guarantee that a diversified portfolio will enhance overall returns or outperform a non-diversified portfolio. Diversification does not protect against market risk. Investing involves risk including loss of principal. No strategy can ensure success or protect against loss.
Source: https://www.fool.com/investing/2021/07/04/trying-to-time-the-stock-market-is-a-bad-idea/

[revised January 25, 2022]