Online Banking & Bill Payment

Do you prefer to do online banking through Mobile web? Click here.
Online Banking Demo
The following Online Banking Demo is best viewed on your tablet or desktop.
To learn more about the sign-up process, view step-by-step instructions
Manage Accounts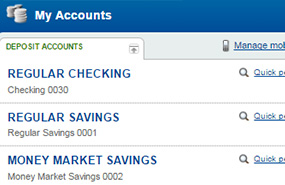 View account balance & history
Transfer funds
Pay bills
ATM & branch locations/hours
View images of your cleared check(s)
View Online eStatements
Pay Bills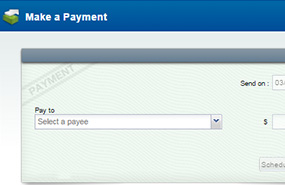 Save time and postage while managing your bills in one place
Unlimited free online bill payments with an Aloha Pacific FCU checking account
Be Smart With Your Money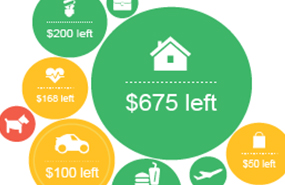 Create a budget and review expenses by accessing Money Management™ through Online Banking
Track tax-deductible expenses
Select and earn Purchase Rewards with debit card purchases
Get quick access to Turbo Tax Online
Export your account activity to Quicken®, MS Money or as a .CSV file
Go Mobile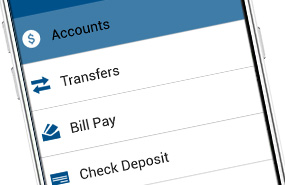 Check your balance and Aloha Pacific FCU account activity from your mobile device
Pay bills and transfer funds
Download the Aloha Pacific FCU mobile app to deposit checks with your mobile device
Online Banking is Free
In order for you to successfully sign up for Online Banking, all you need is:
An Aloha Pacific FCU account
Internet access and an email account
Your Online Banking pages are supported by most modern browsers. In order to ensure the best possible experience, please be sure you are using the most up-to-date versions of the browsers listed below. Your browser will need both JavaScript and cookies enabled (first- and third-party) to access and operate within the site.

Google Chrome
Microsoft Internet Explorer
Mozilla Firefox
Safari

If you are not using one of the supported browsers listed above, you may encounter issues within your online banking experience. We recommend switching to one of the supported browsers listed above in order to ensure you have an optimal Online Banking experience.
Signing Up for Online Banking
New to online banking?
Follow these easy steps for access to your account, using your desktop or laptop computer, or our mobile app. If you are unable to complete the online registration process, please contact Member Support at 808-531-3711 or toll-free at 877-531-3711.
Before you start, you will need the following for a successful enrollment: Date of birth, Mother's maiden name, Social Security Number, APFCU member number
Step One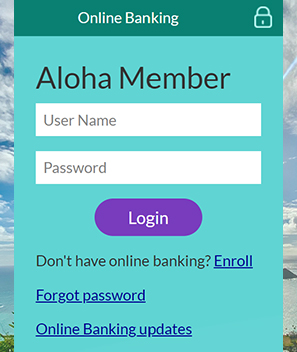 Use your desktop or laptop computer:
Go to APFCU's home page, alohapacific.com. Click on Enroll in the "Aloha Member" log-in box.
Step Two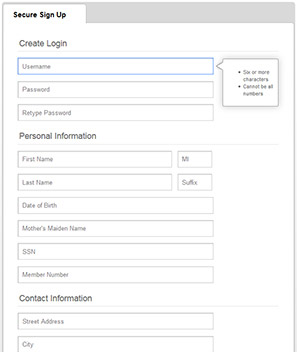 Complete our secure enrollment form:
Create your username and password.
Complete the registration form.
Read and accept the Terms & Conditions, then click on Complete Sign Up button at the end of the form.
Step Three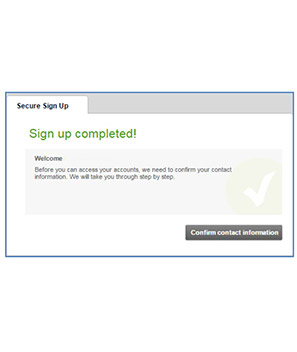 Sign-up completed!
A welcome message will appear. If you receive a "pending review" message, we will contact you on the next business day to help you complete your enrollment.
Step Four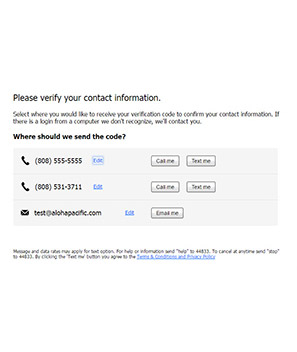 Confirm contact information.
You will receive a one-time verification code.
Enjoy the convenience and flexibility of Online Banking
Congratulations! Now that you have established your online banking account, you can take advantage of a number of benefits:
View your account balances
Transfer money within your own account (i.e. line of credit to checking)
Transfer money from your account to another member
Make payments to APFCU loans
Pay bills with our free, unlimited bill pay service
Option of receiving Online eStatements instead of mailed paper statements to review, download, or print
Make Hawaiian Airlines travel arrangements through our Preferred Affiliate program for a 5% discount on roundtrip flights to and from the Mainland U.S.
Purchase Rewards is a free program that gives you cash rewards when you use your APFCU debit card for purchases through special offers from retailers such as Starbucks, Quiznos and Nordstrom Rack
Money Management is a free financial tool that can help you track spending, create a budget and more
It's the environmentally-friendly option!