Enjoy safe and convenient access to your funds with an Aloha Rewards Checking VISA® debit card! Use it at the ATM for quick, nationwide access to cash plus the purchasing power of a VISA® debit card. Purchases are automatically deducted from your checking account. Use it like a credit card, but avoid the interest and late payment fees.
Are you a Hawai'i Pacific University student, faculty or staff member? Learn about the special HPU debit card.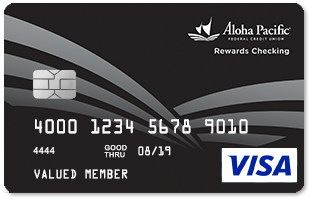 Aloha Rewards Checking VISA® Debit Card
Receive yours in just minutes at a branch
EMV chip for added security and control
Your Debit Card Benefits
24-hour access to your funds
Withdraw up to $500 per day at an ATM
Debit Card Control through Online Banking and our Mobile App
FREE unlimited APFCU ATM access
FREE access to non-APFCU ATMs (up to five (5) transactions per month. ATM surcharges may apply)*
SURCHARGE-FREE ATM withdrawals at First Hawaiian Bank, American Savings Bank, HomeStreet Bank and CO-OP network credit unions. Non‑APFCU ATM withdrawal fees may apply.*
  Contactless Ready
You'll be able to tap your debit card to pay at merchants that accept contactless payments. Already have a debit card? You'll receive your new contactless debit card at your next renewal date.
Manage and redeem your Aloha Pacific Rewards points
If you have an Aloha Points Checking or eligible debit card, visit the Aloha Pacific Rewards website to access your account. You must re-register your debit card if you are logging into the website for the first time.