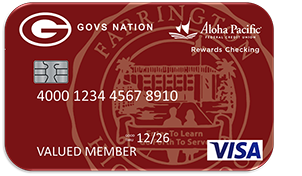 Aloha Pacific Federal Credit Union and Farrington High School have teamed up to offer a special co-branded VISA® Rewards debit card.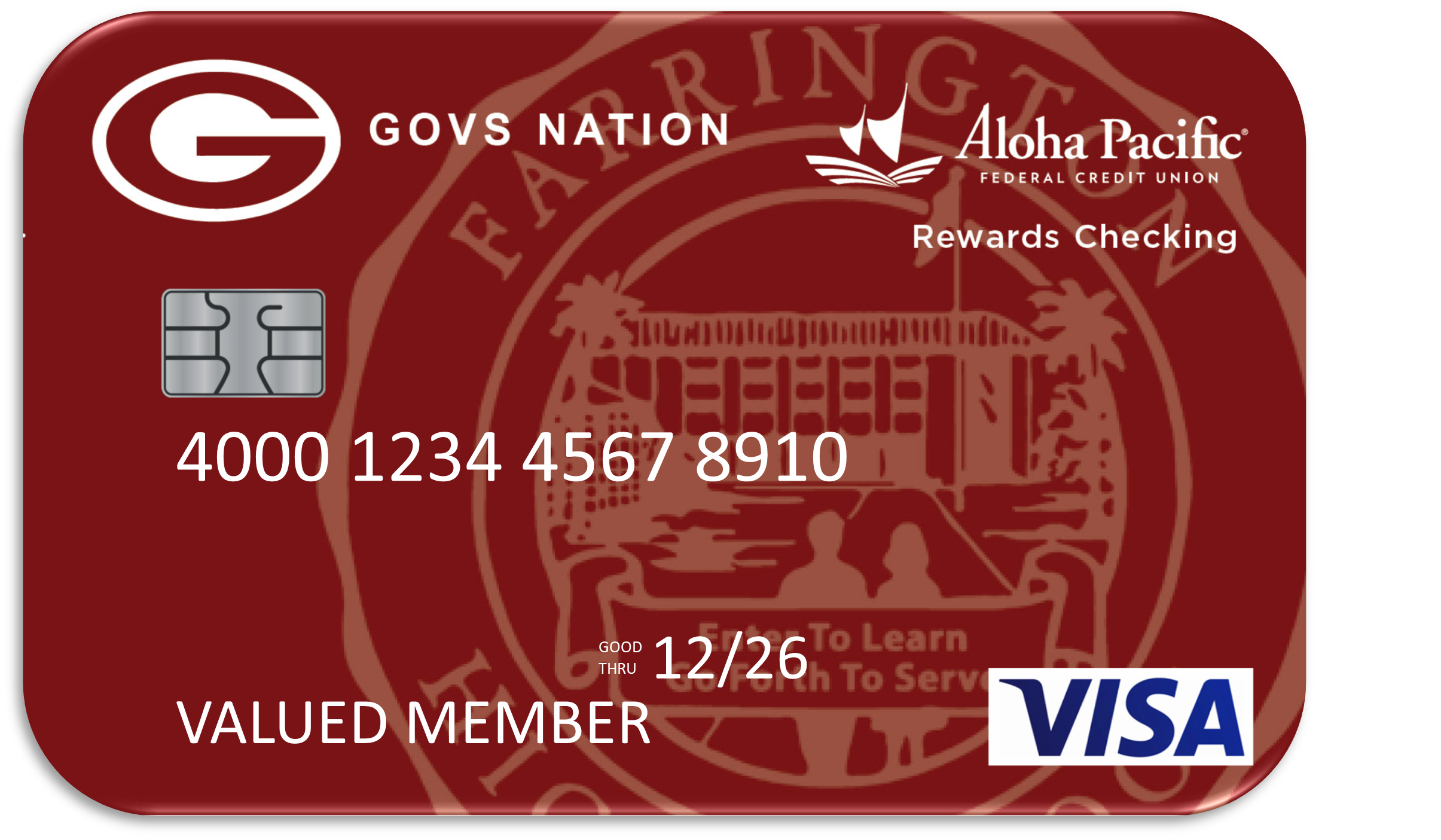 The debit card, which is tied to your checking account, includes all the great benefits of Aloha Pacific FCU, including:
24-hour access to your funds
Withdraw up to $500 per day
Debit Card Control through Online Banking or APFCU's free Mobile App – turn your debit card off or on, block or limit certain transactions, set up alerts, and more
Mobile Wallet – make digital payments through Apple Pay™, Google Pay™, and Samsung Pay™
FREE unlimited APFCU ATM access
Surcharge-free access at CO-OP credit union ATMs and First Hawaiian Bank, American Savings Bank and HomeStreet Bank ATMs (non-APFCU ATM withdrawal fee rule applies)*
Earn reward points on qualified purchases
Not yet a member of APFCU?
All Farrington students, faculty, staff, retirees, members of the Farrington Alumni and Community Foundation and household members are automatically eligible to join. Here's how.
Enjoy these benefits and more with your Aloha Rewards Checking account:
Free VISA® Debit Card
Access your cash at our branches on Oahu, plus over 30,000 CO-OP network ATMs and 5,000 Shared Branches*
No minimum balance and no teller fees
Masami Oishi Memorial Scholarship – students are eligible to apply for a $2,000 scholarship after 1 year as a member; and beginning this year, a special $5,000 scholarship has been added
Free APFCU Online Banking, Mobile App, Mobile Wallet

Transfer money between your savings and checking accounts, or to another APFCU member
Debit Card Control – turn your card off or on, set up transaction alerts
Hawaiian Airlines Discounts – Save 5% on roundtrip airfare between Hawaii and Mainland U.S.
Online e-Statements
For questions or more information, please contact:
Flo Miyashiro, Main Branch Manager ● (808) 539-0322, flo.miyashiro@alohapacific.com
Membership ($5 in Savings) required for service. Other requirements may apply. An account closing fee will be assessed for any and all accounts that are closed within six months after enrollment. Refer to agreements and disclosures and rate and fee schedule. Terms, conditions and rates subject to change after the account is opened. See branch for details.
*The first five (5) withdrawals per month at non-APFCU ATMs are free; thereafter, there is a $2 fee per withdrawal. ATM surcharge fees charged by the ATM owner may apply. First Hawaiian Bank, American Savings Bank, HomeStreet Bank and CO-OP network ATM surcharge fees are waived.